Informations
Orders and prices
I love working with couples who appreciate the trendy design, the high quality finish and the personal service I bring them for their wedding cake experience. The wedding cakes I design create an eye-catching focal point at your reception, elegantly blending in your theme and defining the space. Working alone, I cannot design more than two wedding cakes per week, and several dates are reserved well in advance. As soon as you know your wedding date, it's a good idea to get in touch in order to check my availibility. Even if you don't know exactly what you want, if you like my style, it's better to book your date as soon as possible. We would be able to finalize the details when you'll be ready.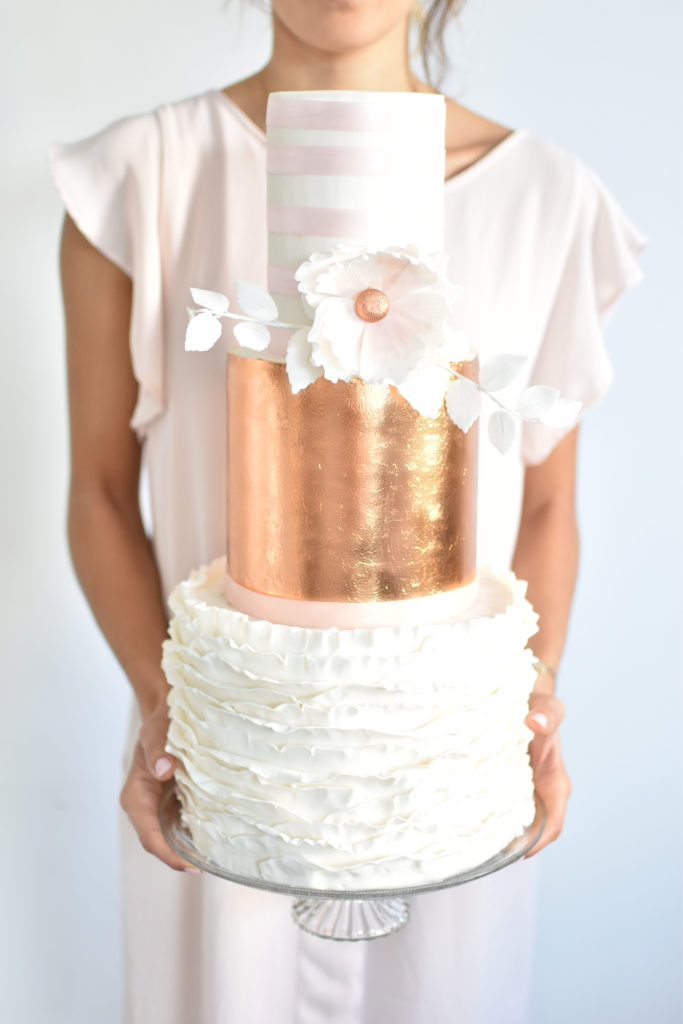 1 – First contact
Contact me so we can discuss your cake, your ideas, your wedding date and how you plan your wedding. I'll be able to give you an idea of ​​what I can offer you, and check my availability
2 – Save the date
This is where we get involved and I securise your date in my diary. This guarantees you that you have my exclusive attention for this day, and that we can plan all the details for your cake. To secure your date, I will ask a deposit of 100 € which will be deduced of your final order.
Be careful : this deposit is not refundable or transferable.
3 – Consultation
It's my favorite part! We will meet in front of a tea or a coffee to discuss your ideas, your tastes, and we'll imagine together the cake of your dreams ! You'll also taste several flavors of cake. A few days later, I'll send you a quote by mail and a sketch of the cake we imagined together.
4 – Finalization of details
We'll finalize the rest of details by email or by phone.
5 – Balance payment
The balance will be due 30 days before your wedding date.
Each cake is unique and made to measure. This is why it is impossible to give you a precise price without having an idea of ​​what you want. The prices depend on the number of parts, and the complexity of the design. Get in touch to give me the number of guests and the style you would wish for your cake, to allow me to give you an average price before going in the details and provide you a quote.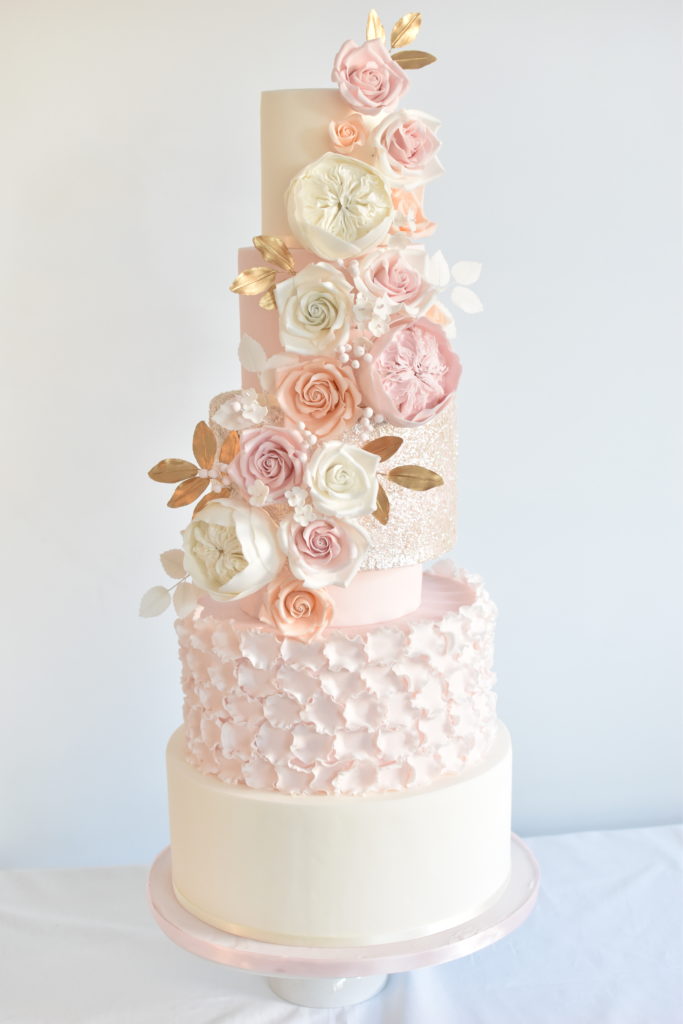 Price Guide
to use as a base
Please note, I do not take orders for wedding cakes for less than € 360. Cakes are charged per pieces. Then the prices evolve according to the design and the time spent on the cake. The minimum price for a piece is 9 euros.
Wedding Cakes
3 tier iced cakes to serve up 55 guests start from 495 €
4 tier iced cakes to serve up 100 guests start from 900 €
Semi Naked Cakes
3 tier 'semi naked' cakes to serve up to 55 guests start from 440 €
4 tier 'semi naked cakes' to serve up to 100 guests start from 800 €
Dessert tabled
Macarons : start from 1,50 each ( 20 pieces min)
Iced biscuits (with fondant) : start from 3,00 each (12 pieces min)
Iced biscuits (with royal icing) : start from 4,50 each (12 pieces min)
Cupcakes : start from 4,00 each (12 pieces min)
Donuts : start from 2,50 each (12 pieces min)
Cakepops : start from 2,50 each (12 pieces min)
Individual treats can also be ordered as a gift to your guests. A packaging can be added for a fee. Please, take a look at my Portfolio "dessert tables" to have an idea of all the possibilities you have.
Deposits and Balance
A deposit of 50% of the amount of your quote is necessary to validate an order. If you don't know exactly what you want, and that you don't have a quote yet, it's possible to just secure your wedding date with a deposit of 100 € . These two deposits are non-refundable and non-transferable deposit. The balance is due at least 30 days before your wedding.
Delivery
Shipping costs are calculated according to your wedding venue.